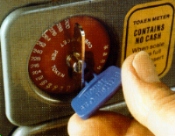 Demand for Meter Investigations Rises
The independent forensic testing facility for the investigation of possible fraudulent us of supply meters is well established at Scienco. The service includes the production of reports for the Crown Prosecution Service and when required the provision of expert witnesses for court appearance.
The following article summarises some of the recent interest in the subject and the requirements of suppliers and transporters.
"Energy watchdog Ofgem is to crack down on gas and electricity theft, the BBC reported"
Estimates on the amount of energy stolen vary from £64m to £220m per year. The figures equate to between £2.70 and £9.80 per gas household per year.
Although suppliers are obliged to tackle fraud such as meter tampering, the cost of debt recovery provides little incentive, said Ofgem.  Thieves use devices such as knitting needles to tamper with meters, said a BBC Radio Five Live report. 
The safety risks involved in fraud will also be highlighted, with some of the worst examples of meter tampering having resulted in fatal house fires. Ofgem said the rules governing what action should be taken against fraudsters are 15 years old and need to be reviewed, said the report. Under current rules supplier, such as British Gas and Scottish Power, have an "obligation" to investigate and target thieves. But Ofgem said it was not in their interests to do so because of a system called "smearing" which means all the companies pay for all the losses, and ultimately their customers pay the price
Gas Transporter's Licence Obligations
Gas transporters are required to:
Assess safety risk from metering equipment that is unsafe.
Investigate and recover charges where interference is before the consumer's control valve.
Investigate and recover charges where there is interference after the consumer's control valve and there is no contract between a gas supplier and the user.
When the theft is after the consumer's control valve, record details of allegation, inform the shipper of theft and record the findings of the investigation.
Set up reasonable endeavours scheme and process claims accordingly.
Maintain records of the theft allegations, results of the investigation and recover energy stolen.
Furthers Investigations to Follow
As a result of the investigations, the need to actively investigate, theft of gas has increased. In response Scienco has expanded its meter examination facilities in preparation for the increase in demand.